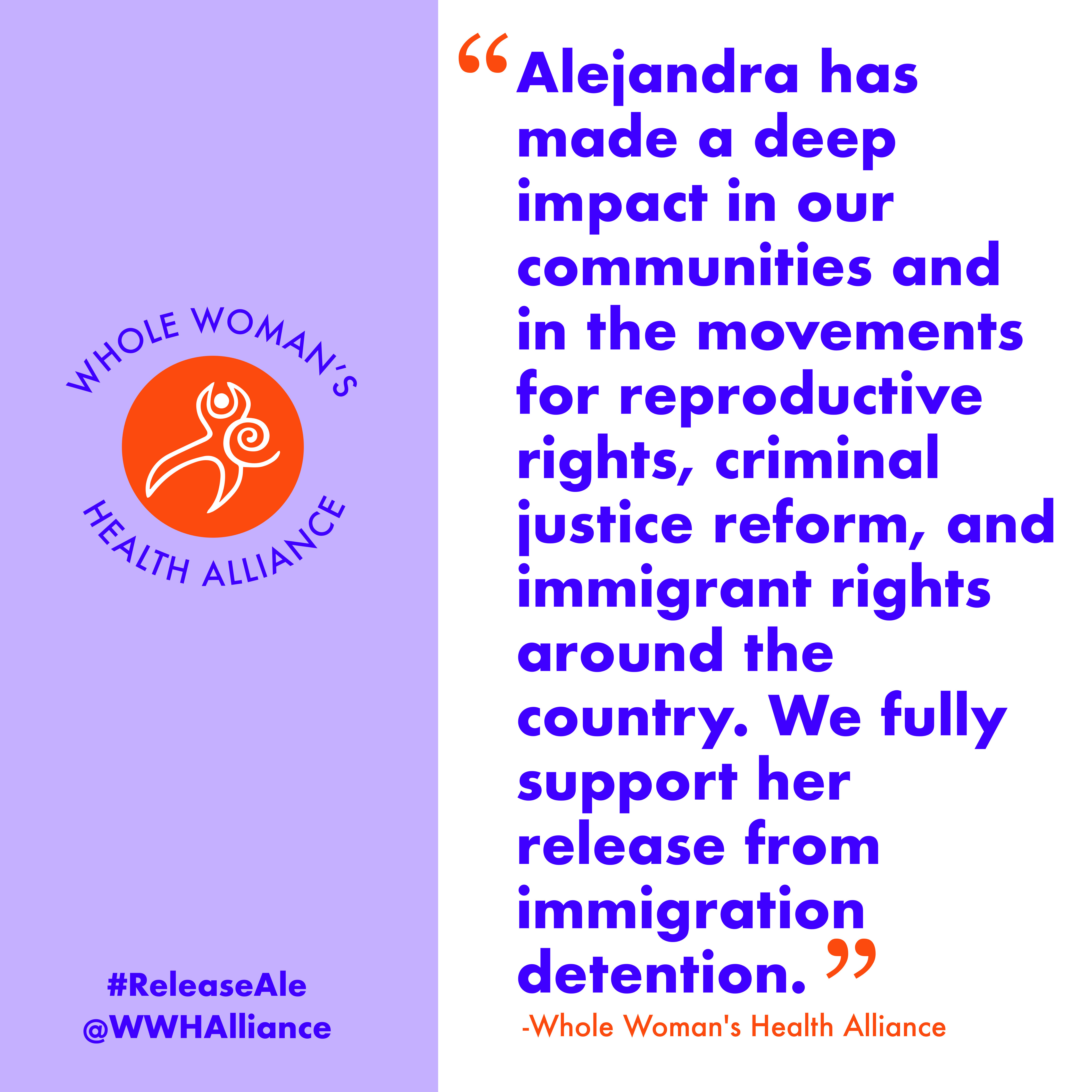 Immigrant Rights and Reproductive Justice activist, Alejandra Pablos, has been detained at Eloy Detention Center in Arizona for over a month and will be appearing before a judge today.  The following statement was issued by of Whole Woman's Health Alliance.
"Whole Woman's Health Alliance supports the release of Alejandra Pablos from immigration detention and urge the immigration judge at her bond hearing to take into consideration Alejandra's deep impact in our communities. In both Texas and Virginia, Whole Woman's Health Allianceworks closely with the National Latina Institute for Reproductive Health (NLIRH), the organization with which Alejandra works. The community organizing work led by Ms. Pablos and NLIRH is vital to ensuring that all communities have access to reproductive education and reproductive healthcare. Ms. Pablos is a valued member of the reproductive rights coalition in Virginia and is dedicated to advocating for the healthcare rights of all people in the state of Virginia.
Alejandra has made a deep impact in our communities and in the movements for reproductive rights, criminal justice reform, and immigrant rights around the country. We fully support her release from immigration detention. "
Whole Woman's Health Alliance (WWHA) is working to strategically shift the stigma around abortion care in our culture and is committed to fostering open and honest conversations, lifting up all communities and transforming the abortion care environment. WWHA is a 501(c)3 organization leading powerful stigma eradication, culture change and community education work across the United States. The work is rooted in and informed by direct service work delivering high quality abortion care around the country. WWHA's largest programs are the operation of clinics in Austin, Texas, Charlottesville, Virginia and South Bend, Indiana where we have opened new clinics in challenging places where access to quality care is under attack.
For more information: www.wholewomanshealthalliance.org