Today, January 31st, is an auspicious day at Whole Woman's Health. Today marks our Sweet 16 as a company. Last year we celebrated WWH's quinceñara in San Antonio with a party at our clinic. It was unforgettable. For one night, the clinic was transformed into a fabulous sea of purple love – the recovery room became an elegant dining hall, the waiting room became a dance club with a DJ, and we even had a signature beverage selection. Do you know the best thing about the team at WWH? We know how to serve, we know how to fight, and we also cherish our ability to celebrate along the way. We work hard, but we know how to party too.
Today, we're celebrating again. We're toasting the Whole Woman's Health of McAllen team and our very own Andrea Ferrigno, our VP of Growth and Innovation, on a joint 15th anniversary with Whole Woman's Health. What a joy! And believe me – it will be a celebration!

15 years ago today I made one of the best decisions I have ever made in buying Whole Woman's Health of McAllen. We've seen some ups and downs over our 15 years, but this little building of ours has remained a beacon of light and hope. We are honored to carry forward the powerful legacy of more than 45 years of abortion care in our location as Dr. Pedro Kowalyszyn provided abortions here for 30 years before us. We fight against all who have risen to challenge our very existence along the way.
We persist and we prevail. And today we'll celebrate.

It is not by chance, but by the beautiful fate of the universe and how she works, that Andrea Ferrigno "came with the building" as we say when I purchased Dr. K's clinic in 2004. Dr. K is Andrea's uncle, and she started this abortion care work when she was still in college. It was by design from the good forces in the world that our paths aligned and she has blossomed over these 15 years with WWH to be an inspiration to the entire field of abortion care in the US and internationally.
Please take a moment to listen to Andrea talk about our work and its meaning
It is my deep honor to celebrate Andrea's contributions to the field of abortion care on her 15th anniversary with WWH today – her passion, her integrity, her hope, her wisdom and her deeply held belief that all people deserve respect and compassion serves as a beacon of dignity and hope in the struggle. She is a wing woman like none other.
I am blessed on a daily basis to work with Andrea. WWH is what it is today because of her contributions- blood, sweat and tears included!
Salud a mi favorita. Milliones besos a ti.
This little clinic on Main Street was on the front lines of the fight against HB 2, getting national attention in documentaries like Trapped (won awards at Sundance), the NY Times, Rachel Maddow, AP and Reuters…and countless others. We persisted, and we won. We reopened and we thrive.
This little clinic commissioned muralist Corina Carmona to add beautiful local art to the outside of our clinic that reflects our values – despite those who protest our work. This little clinic is combatting abortion stigma and adding beauty – as we do – to the community through our works every single day.
This little clinic has been and always will be on the front lines for the Jane Does. We serve and honor those who are detained, whose rights are denied, who are imprisoned and who need our advocacy and our love. We are here for them. Every day. And sometimes in the middle of the night!
This little clinic is the place where all people – regardless of immigration status or their ability to pay – know they can get compassionate, quality care without judgment. The community of McAllen is at the epicenter of our country's immigration debates, and our clinic is here through it all, welcoming everyone who needs us with kindness and compassion.
This little clinic has been the site of countless research studies in the field of abortion care – from medication abortion to self-managed abortion to abortion migration – we open our doors to allow our patients to preserve their stories and to share real data about real people's lives with the larger world.
This little clinic is the heart and soul of our work, and today I toast this team with my head, and my heart, and my soul.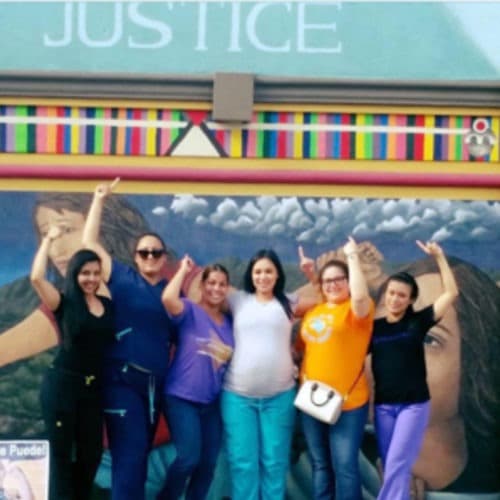 The WWH McAllen team's passion and dedication to our mission and Andrea's spirit, still deeply rooted in the Valley, has helped this clinic and our organization shine on through relentless attacks. We've withstood it all without losing focus of our biggest priority: providing compassionate, holistic abortion care with the dignity and respect that all people deserve. Our steadfast local RGV allies, including the Frontera Fund, the National Latina Institute for Reproductive Health and South Texans for Reproductive Justice stand side by side with us every day, and for this we are truly grateful. Thank you.
It is our honor to care for people from all the communities across the Rio Grande Valley, Mexico and beyond. The Whole Woman's Health commitment is stronger than ever; and to this let us all raise a toast: To Andrea and to Whole Woman's Health of McAllen.
When a someone needs an abortion, we're going to be here, and we are going to do a fabulous job of caring for them.